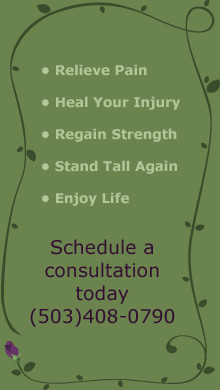 Treatment for Motor Vehicle Accidents (MVAs)
We can help you find relief.
Namaste Natural Healing Center understands the havoc a motor vehicle accident can wreak on your
day-to-day comfort and well-being. Dr. Meyer will thoroughly evaluate and document your injuries. This includes a comprehensive examination, appropriate imaging studies (x-ray, MRI) and creation of a treatment plan that provides both short-term relief as well as long-term healing.
Treating your MVA injury at Namaste may include:
Evaluation of your injuries or discomfort
Natural and conventional medicines for relief of pain and muscle spasm
Various physiotherapy modalities to ensure your joint and muscle tissue heals properly
Spinal Manipulation
Hot and cold treatments to sooth your pain and discomfort
Massage Therapy to soothe pain and reduce muscle spasms
Education to help you continue to heal and prevent future injuries
To learn more about what we do, click here.
When an accident throws your body out of commission, Dr. Meyer and the entire Namaste team will help you get your body back in balance, so that you can start feeling good again.